As a bookworm, student, and general community member, I strongly feel that book banning is heinous. I do think now that this issue is less frequent than it has been in the past. However, the fact that restricting certain novels to all based on a small portion's opinion still exists baffles me. It was recently-only last month, in fact- that New Zealand banned
Into the River
by Ted Dawe, a YA novel shunned for its cursing and "sexual content". Not to mention
the restriction of Some Girls Are to eager students in a South Carolina high school without consent from a banning committee.
Incidents like these drive my passion for combating this issue. So, I was ecstatic to celebrate this year's #BannedBooksWeek, which spanned from September 27 to October 3. I am appalled to find that many of my favorite books are or have previously been banned to larger audiences because of their content. I firmly believe that everyone should have the opportunity to select their own reading.
I am
proud
to read banned books. Here are a few of my favorites:
The Harry Potter series by J. K. Rowling
(Nonsensical) reasons why some ban this book: occult, magic, "too strong" themes, violence
Rowling's works have been favorites of mine since I was in second grade. I try to re-read the series every year and I find something new to draw from it each time I do. I am appalled people consider restricting books at all, but banning the
Harry Potter
books especially irks me. Admittedly, a large part of that is my love for the series, but I also think that naysayers debase many of the positive messages the books spread, aside from what already is an attention-grabbing, edge-of-your-seat kind of read. Friendship, fairness, bravery, love, and kindness are a few key qualities characters in these books portray and encourage audiences to be themselves. This series presents memorable characters journeying on life-changing adventures to the personalities themselves and readers. I like to think that, even years from now, I will still treasure this series as one of the most influential I have read and a true favorite.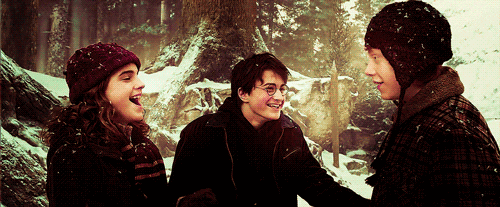 Fahrenheit 451 by Ray Bradbury
(Nonsensical) reasons why some ban this book: thematic material
The common banning of Fahrenheit 451 is ironic, really, seeing as the book targets book banning and burning. In Bradbury's classic work, a modern, oppressive society restricts knowledge. Its firemen work to start fires- to burn books, specifically- instead of putting them out. I read this book last year and remain glad that I did. Even thinking about the story gives me the chills; everyone, aside from Montag, our protagonist, Clarisse, a neighbor, and a few English enthusiasts Montag meets in his journey seek overwhelming sameness. Community members fear emotion and purposely reject creativity in an effort to standardize all people and processes. The scary thing is, these community members want sameness. They are driven by their "same-old-same-old" routines and hate any mention of knowledge.
The Giver by Lois Lowry
(Nonsensical) reasons why some ban this book: violence, unsuited for age group
Somewhat similar to
Fahrenheit 451
,
The Giver
highlights an oppressive, futuristic society where knowledge is hidden. In this story, main character Jonas is selected to receive all his community's memories and emotions, while community members live painless, mindless, repetitive lives. This book was one of the first "official" young adult novels I read (and, on that note, it's due for a re-read soon).
The Giver
truly forces readers to think about the content they're reading. The cliffhanger ending sparks interest and imagination, too.
Flowers for Algernon by Daniel Keyes
(Nonsensical) reasons why some ban this book: sexual content, thematic content
Admittedly, I was not a fan of some of the sexual content in Flowers for Algernon. However, I do not see it as a reason to completely restrict the book for other readers, or consider it a book I disliked due to the single aspect. I read an edited excerpt of this novel, which omitted a massive amount of detail, for English class last year. Out of curiosity, I decided to pick up the full version this book. I am glad I did. Keyes explains the story of Charlie, a mentally disabled patient. Scientists operate on his mind to increase his intelligence after testing the experiment on a mouse- Algernon. As time passes, Charlie becomes smarter and smarter, until finally, his intelligence surpasses that of those who originally operated on him. The story is written from Charlie's perspective, in the form of handwritten journal entries that change with his intelligence. I am trying to avoid spoilers, but Flowers for Algernon was a mix of breathtaking, saddening, and shocking.
Do you have a favorite banned book?