Yet another month is gone, bookworms! I can't believe December starts tomorrow. Mentally I've already replaced the turkey and fall colors with Santa hats, bright, colorful lights, and warm sweaters. Before we know it, 2016 will be here! It's funny how, looking back, time seems to fly by, but experiencing the moment makes the present seem like it will never end.
This month on the blog started a bit shakily at first, but steadied as the month progressed. I have posted less since the summer ended, but I am hoping December will present new opportunities to post more often. I think my short absence at the beginning of this month served me well, though, and it seems I've regained some of my previously lost motivation to blog more often in my free time, as opposed to dedicating it to some other activity.
My adoration for Hogwarts is riddikulus.
[let's pretend this picture is Thanksgiving in the Great Hall]
Ha. Puns. On the blog and Twitter, I have mentioned the Hogwarts School of Blogcraft and Bookistry before. Although I briefly covered the basics of this post series, created by the other Team Red professors and I through the Book Blogger Creativity Project, in my
last monthly recap
, I still remain as fascinated and enthusiastic about this project as I was at the series launch. This month, I was perhaps even more excited than before because
my class, Muggle Studies
, went live on the blog just last Friday!
In Muggle Studies, we reviewed bloggers who excel at discussion posts and some contemporary book recommendations! Next week will be Herbology.
Holidays are fun in the blogosphere.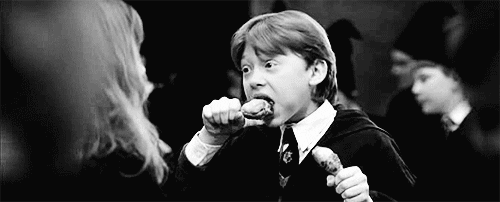 This month I had a lot of fun celebrating Thanksgiving in the book blogosphere. I offered my bookish gratitude and had the opportunity to exchange remarks with other bloggers through the comments and Twitter.
For Thanksgiving this year, my family and I traveled outside our city to visit some colleges! I had to bring books for the trip there and back, of course, On the trip there and in the hotel room, I read The Boy in the Striped Pajamas by John Boyne, which I'm not entirely sure how I feel about yet. I also brought Queen of Shadows by Sarah J. Maas, Ruin and Rising by Leigh Bardugo, The Sword of Summer by Rick Riordan (which my younger sister adored, by the way), and The Walled City by Ryan Graudin. I now have a dilemma: what do I read next?
On the note of holidays, Twitter names are already becoming winter-themed! My Halloween-esque one was "Clairvoyant"; it's time to start brainstorming for a more winter-y one!
Guest posts can also be quite fun.
This month, through the Guest of the Month Club, I was able to exchange guest posts with Dita! We each wrote a post with our take on the topic, 'Beyond the Blog', to explain the activities and obligations we have outside the book blogging world. You can view my post on her blog here and her post on Cover to Cover here.
If YOU would be interested in guest posting on Cover to Cover, check out my guest post page, email me at ccovertocover@gmail.com, or shoot me a message on Twitter [@ccovertocover]!
*Note: special shout out and thank you to all those who sent me Thanksgiving greetings and messages! It was so kind of you all to think of me and I really appreciate it!:)
Here are some of my favorite (bookish) tweets of the month:
— this is teen (@this_is_teen) November 27, 2015
— O holy heid (@heidiheilig) November 25, 2015
— Charnell (@reviewbookworm) November 22, 2015
Expected blogging process: 1. Write post. 2. Find relevant gifs. Actual blogging progress: 1. Find gifs. 2. Write relevant post.

— Alyssa Carlier (@AlyssaC_HK) November 19, 2015
People say I'm evil. I tell them to read my biography inspired book, The Young Elites, to understand.

— Melanie Barbosa (@melanielost) November 19, 2015
— Sashana (@SheFierce1) November 9, 2015
a7: i feel like i am a more watered down version of celaena sardothien

#ASQWW

— alex (@alexs_bookshelf) November 28, 2015
What was your November highlight?